Kannigapuram New Hospital
CMC is building a new 1,500 bed hospital at Kannigapuram, close to Vellore. This will enable us to serve our patients better – both in the new facility and in the main Vellore campus. Initially, Kannigapuram will care for accident victims and a selection of other medical specialities. The main focus will be on "lifestyle diseases" such as cancer and heart disease. Later other specialities will be added.
For a long time, we have realised that there is an urgent need for a good trauma centre on the busy national highway between Chennai and Bengalaru. Further details are given below, along with an outline of the other services that will be available.
Read more about our Hospital wide response to the pandemic: CMC Fighting the COVID Pandemic
Fighting the Pandemic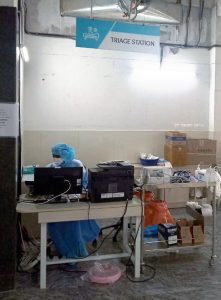 Kannigapuram Phase 1: Open as COVID-19 Health Centre.
Kannigapuram opened for COVID patients in June 2020. The lower floors of the In-Patient Block of the new hospital have been opened as a COVID Health Centre. The dedication ceremony took place on June 17th 2020 with the collector of Ranipet as the chief guest. An earlier inauguration of the whole hospital took place on 27th May, although only a few could attend.
So far, CMC commissioned 168 beds, in isolation wards, for COVID-19 patients. And ready to care for these patients, CMC has trained staff in COVID care and posted them to these new wards. The photograph of the front of the hospital at the top of this page was taken in September 2020.
Photos of Phase 1
Initially, the Kannigapuram wards are open for COVID patients with mild to moderate symptoms. The ground floor has a reception and a triage area ready for screening patients on arrival. Currently, there are 2 wings of 56 beds on the second floor. Plus another 56 beds on the third floor, so a total of 168 beds. To begin with, there will be no ICU beds. But new ICU beds should hopefully be open in phase 2 around December 2020 at Kannigapuram.
A laboratory equipped with diagnostic equipment is available. An oxygen concentrator plant is already in place. This ensures that there is adequate oxygen available for the patients – vital for treating COVID patients.
COVID Response Phase 2
To cater to the steadily rising numbers of COVID-19 cases, more beds are being prepared at Kannigapuram. Soon there will be a further
168 beds for isolation and treatment on the 4th and 5th floors, and
24 intensive care beds
Outpatient facilities.
CMC will commission these shortly, hopefully by December 2020.
CMC has written some information about COVID for everyone. What is happening about appointments, what is social distancing, how to wear a mask etc.
Read the information here: COVID Information
---
Architects view of the hospital
The architects created digital 3D models that help us to see what it will all look like when finished. See those images below.
Why a new Campus?
CMC Vellore grew from a one-bedded clinic to a sprawling healthcare institution. Now CMC has six campuses spread in and around Vellore. Every time a new campus was built, the motivation was purely to cater to an unmet need.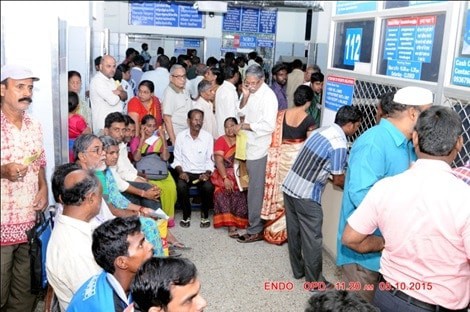 By the first decade of the 21st century, it became clear that the main hospital campus was becoming too congested. This was affecting our ability to provide optimal support to our patients. So, the hospital made the bold decision to build a new campus. (Read more).
---
Care for Accident Victims
Central to the new campus will be a Trauma Care Centre that will provide state of the art facilities to save the lives of accident victims.
Read about the Trauma Care Centre at the new campus.
Victims of all kinds of accidents and mass casualties will come to the hospital. This will include traffic accidents, falls, work accidents, accidents in the home etc. CMC Vellore will look after these victims in the new trauma centre. This is the first of its kind in the State.
---
Other services at Kannigapuram
In the longer term, the new facility will meet several huge needs. The new Trauma Centre will care for accident victims. The focus for the rest of the hospital will be on lifestyle or non-infectious diseases (like cancer and heart disease). Strangely, to start with, the hospital will only look after patients with the infectious COVID-19 disease.
Care for Cancer, Healing for Hearts
Another key focus area is non-communicable diseases like heart disease and cancer. Also known as lifestyle diseases, these are rapidly taking over from infectious conditions, like TB and malaria, as the major causes of illness and death.
CMC's highly skilled staff, together with top level diagnostic and therapeutic equipment, will ensure the very best care in a compassionate environment.
Specialist departments, like Neurosciences, Urology and Gastroenterology, will be shifting most of their activities to the new hospital. This will give them much needed space to expand. Patients will benefit from a much more pleasant and less crowded environment. Outpatient services will be available for other specialities. Meanwhile, this move will reduce the number of patients and staff squeezed into the Vellore Town Campus.
Please give generously to help us realise this dream.
---
Towards the Finish Line
Work is continuing on the rest of the hospital. The lockdown has caused serious delays, and we need your help more than ever to complete this huge project. The hospital will have over 1,500 beds as well as operating theatres and diagnostic facilities.
We still need your help
Today, we have opened beds to care for COVID-19 patients but still need to complete the rest of the new 1500-bed campus. The finish line is in sight.
Naming Opportunities
If you give over ₹10,000/- your name will go on our Donor Wall. There are still opportunities to have your name, or your companies name, on equipment, rooms etc as well. Do contact us if you are interested at the development office: dev.office@cmcvellore.ac.in
You can get tax relief on donations under S.80G. See here for more details.
---
Finished: Architects Model
Click on the images below to see a larger picture.
You can already see the buildings looking like these models drawn by the architect.